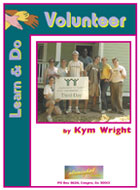 Volunteer Unit Study
by Kym Wright
List price: $1
9

.95
Save 10% and buy online for $1

7.95

Now Available!
Ready to Buy?


Our full service online store is ready to take your order and assure speedy shipment by USPS or UPS!

Description
As our homeschool children turn into preteens and teens, we see a need to help them learn about the world in preparation for their upcoming lives as adults: hands-on experiences, to see the poverty, the need, and take part in bringing hope and healing. Working with established groups, creating your own, or volunteering individually, there are always opportunities for service. History, people, field trips, and careers. 4th grade & up.

In a Nutshell: