There are eight children. Seven are biological with one adopted. Mark is in management at a large corporation. Kym manages the home: home schooling, baking, gardening, sewing, while helping the children raise cows, goats, sheep, chickens, horses, cats, a dog & just recently some ducks.

They used to live a fast life with both parents working. Kym had her own business as a Wardrobe and Image Consultant, shopping for and with clients, helping them create a visual image for success in their chosen professions. Following God's lead, she closed the doors on her business, and came home to focus on her family.

More articles about the Wright family in Practical Homeschooling, The Modesto Bee and Pentecostal Evangel.

We love children and encourage adoption. Not every family will adopt. That is not the goal. Our desire is to make adoption a viable option to those whom God has called to it. To inform and connect those who have life and love to give, to those who so desperately need it.

He will put the lonely in families. Psalm 68:6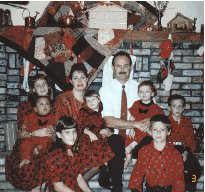 We are the Wright family: Mark (daddy), Kym (mama), LeShay-15, Chantelle-13, Brent-11, Neal-8, Kelsey-6, Kaylor-4, Morgan-3, and Kaitlyn-2.